Meet The Doctor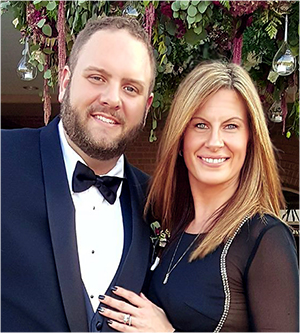 Hello! My name is Dr. Patrick Dixon, owner of Dixon Family Chiropractic here in Richmond, MI. I would like to take a moment to tell you a little about myself. I was raised in Lansing, MI. I attended LIFE University in Atlanta, GA and then transferred to Palmer College of Chiropractic in San Jose, CA, where I completed my Chiropractic education. I am Board Certified, a member of the Michigan Association of Chiropractors as well as a member of both the American and International Chiropractic Associations.
I returned to Michigan and had the opportunity to work under an exceptional chiropractor, Dr. Eric Marshall for over two years. I ventured out on my own, and have owned Dixon Family Chiropractic here in Richmond for almost 10 years. Myself, my wife Lindsey, and our 3 sons, Miles, Liam and Nolan are enjoying getting to know the Richmond area and surrounding communities. As I am so excited to be raising my own family in this area, I am also excited to get to know you and your families as well.
I invite you to stop in and say hello to us here at Dixon Family Chiropractic. I am trained in numerous techniques of adjusting to accommodate everyone; ranging from pediatrics to geriatrics, pregnancy, auto accidents, and worker's compensation injuries, as well as sports injuries.
Each individual's spine is different; no ONE technique is right for everyone. We are the leading edge in chiropractic in this area. We have the Pro Adjuster system available, as well as many other non-force techniques. The Pro-Adjuster is a revolutionary way of adjusting, that takes the apprehension out of Chiropractic. It is designed for patients that are not comfortable with the sudden movements, 'twisting', 'cracking' and 'popping' that you get with manual adjustments.The Wellwave is a highly efficient, non-surgical treatment for chronic pain in the musculoskeletal system. It uses impulses to break up scar tissue, reduce inflamation and accelerate the healing process.
I want to assure you of my dedication and passion for the chiropractic profession. I want everyone's experience in this office to be a positive and healing one. I am also educated and have a level 2 Certification in Kinesiology Taping with Rock Tape. Rock Tape is a weaved fabric tape that stretches in one direction or the other pulling the skin away from the soft tissue underneath, which allows an increased blood flow to the area to help in stabilization, healing, and recovery.